The 2018 TCR Benelux season is racing by ! This weekend, the most competitive sprint championship from the flat-countries will return to the Netherlands for a fourth round which will take place on the TT Circuit Assen. This season's penultimate round will be held in the context of the very popular Gamma Racing Days, one of the largest european meetings where cars, motorcycles and kart-racing are the stars. This event foreshadows overcrowded grandstands.
The TCR Benelux already attracted a wealth of great names this year. In Assen, Peter Terting, a former Seat official driver for the World Touring Car Championships shall get into the fray. The 34 years old German, who defended the spanish constructor's interests in 2005 and 2006, will drive the Hyundai i30 TCR #13 from Autodis Racing by Piro-Sports in place of his compatriot Cedric Piro.
"After my participation at the 24 Hours of Nürburgring with an official Hyundai, I worked a great deal in order to join Autodis Racing by Piro-Sports" explained Peter. "It is always difficult to start-off during a full season and I had only one tryouts session with the team. But we'll see how this weekend goes."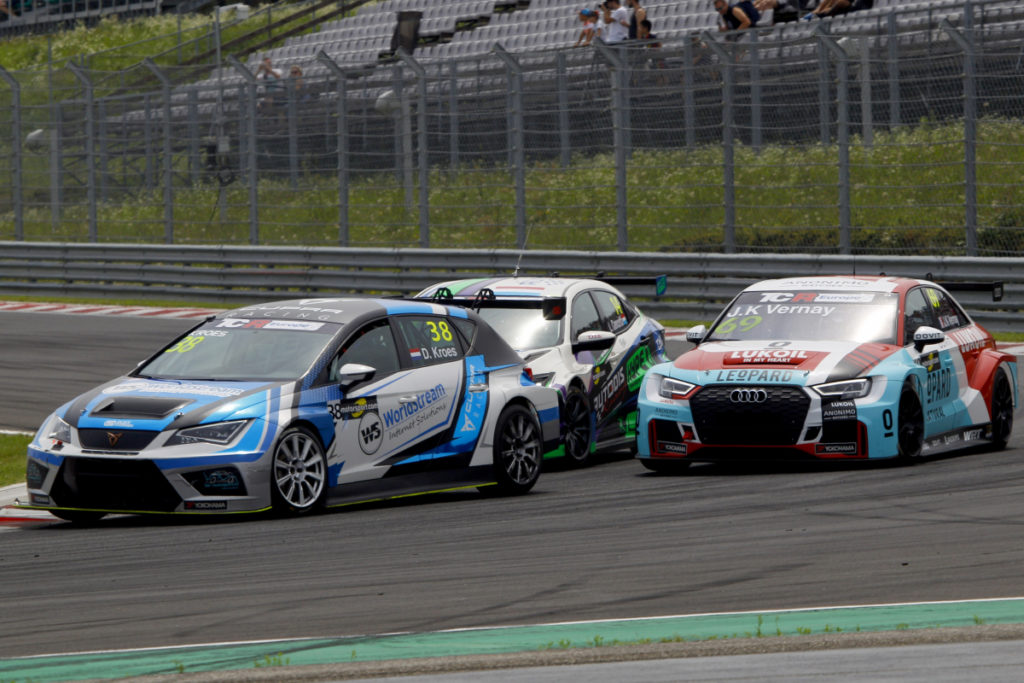 Having made a very strong season start, Danny Kroes (Cupra Léon TCR #38 PCR Sport) arrives on his lands has a championship leader. Such as in Zandvoort, the young Batavian will want to shine at home and stop his runner-up Maxime Potty (Volkswagen Golf GTI TCR #88 Comtoyou Racing) from coming back at him in the championship, the Belgian is only 15 points behind. Pay also attention to the third man, Loris Cencetti (Honda Civic Type-R #14 Autodis Racing by THX) whose transition to the Japanese beauty in Hungary was rather successfull.
But the hunting party is getting organized behind this young guns trio. Fourth in the provisional ranking and separated from Kroes by 25 points, Julien Briché will have at heart to prove that his Peugeot 308 TCR #4 from JSB Compétition is stronger than ever before. As for the Hungaroring infernal duo, Jean-Karl Vernay (Audi RS3 LMS #69 Leopard Lukoil Team) and Stefano Comini (Honda Civic Type-R #42 Autodis Racing by THX) will keep on with their frantic championship chase. As for Marie Baus-Coppens (Cupra Léon TCR #21 JSB Compétition), she will pursue her progress.
After the free tryouts sessions which will take place on Friday at 12h10 and 14h40, the TCR Benelux qualifications will begin Saturday at precisely 08h59. The two 23 minutes + 1 lap races will take place on Saturday at 14h51 and on Sunday at 11h00. Clashes to watch live online on the TCR Youtube channel !
Drivers Championship : 1. Danny Kroes 94 points ; 2. Maxime Potty 79 ; 3. Loris Cencetti 77 ; 4. Julien Briché 69 ; 5. Jean-Karl Vernay 61 ; 6. Cedric Piro 56 ; 7. Jaap Van Lagen 55 ; 8. Stefano Comini 45 ; 9. Marie Baus-Coppens 42
Team Championship : 1. Leopard Lukoil Team 120 points ; 2. PCR Sport 98 ; 3. JSB Compétition 86 ; 4. Comtoyou Racing 85 ; 5. Autodis Racing by Piro-Sports 63 ; 6. Autodis Racing by THX 49
TCR Benelux – 2018 Calendar 1. 19/21 May – Circuit Zandvoort, Netherlands (Jumbo Racedagen) ; 2. 9/10 June – Circuit de Spa-Francorchamps, Belgium (International GT Open) ; 3. 7/8 July – Hungaroring, Hungary (International GT Open) ; 4. 18/19 August – TT Circuit Assen, Netherlands (Gamma Racing Days) ; 5. 20/21 October – Circuit de Barcelona Catalunya, Spain (International GT Open)
Further informations, results and pictures available on www.tcrbenelux.eu