The TCR Benelux competitors will keep a most vivid memory from the TT Circuit Assen. Designed for sprint races, the Dutch circuit was the scene of most animated battles, to the great delight of the 90.000 spectators who attended the very popular Gamma Racing Days. With a most uncertain weather, all the ingredients were gathered for a thrilling fourth round.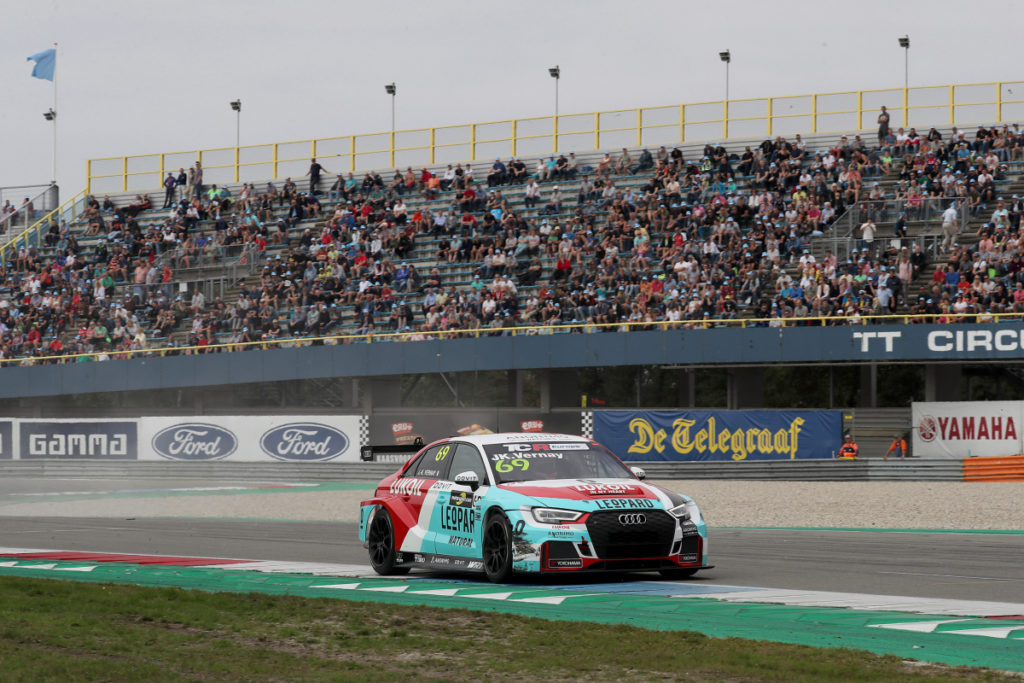 Race 1 : Vernay, without questioning
The first line of the Race 1 starting grid was monopolized by Jean-Karl Vernay (Audi RS3 LMS #69 Leopard Lukoil Team) and Maxime Potty (Volkswagen Golf GTI #88 Comtoyou Racing). Signing a poor start and having to deal with an understeer situation, the young Belgian from Liège had to let the experienced french pilot glide to victory in TCR Benelux. "I could have even won the overall classifications in TCR Europe but my Audi wasn't in a perfect condition any more since the car suspension broke during the tryouts, especially the brakes", explains Vernay.
After signing great skirmishes during Race 1, Stefano Comini (Honda Civic Type-R #42 Autodis Racing by THX) takes the silver medal in front of Maxime Potty who manages to take some points over Danny Kroes, (Cupra Léon TCR #38 PCR Sport) in the championship, who takes the fourth place. Julien Briché (Peugeot 308 TCR #4 JSB Compétition) and Marie Baus-Coppens (Cupra Léon TCR #21 JSB Compétition) complete the classification. Peter Terting (Hyundai i30 TCR #15 Autodis Racing by Piro-Sports) and Loris Cencetti (Honda Civic Type-R #14 Autodis Racing by THX) were forced to abandon.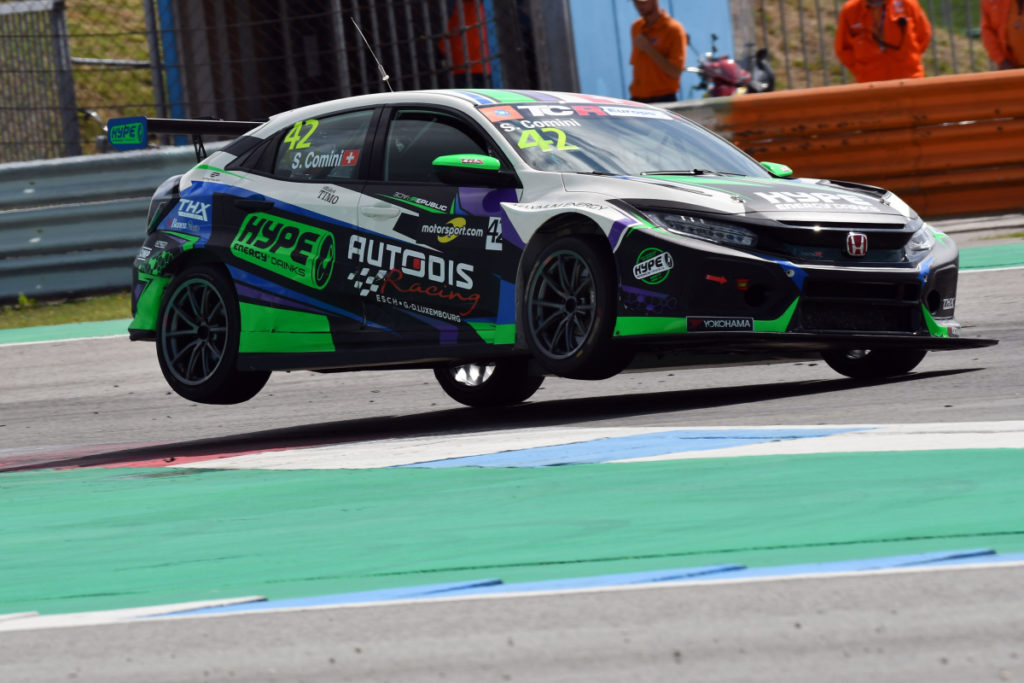 Race 2 : Comini delivers a show
Like the previous time, Maxime Potty takes the pole in TCR Benelux in front of Jean-Karl Vernay. However, a third man, Stefano Comini, was to carry out a huge act by making a magnificent ascent and securing a second victory after the one on the Hungaroring. Again, Jean-Karl Vernay had to settle with the second place.
However, this weekend's great winner is Maxime Potty. By winning a new bronze medal, the Belgian VW Club pilot benefited from Danny Kroes's abandon and took the championship lead. Julien Briché, the newcomer Peter Terting, Loris Cencetti and Marie Baus-Coppens complete the classification.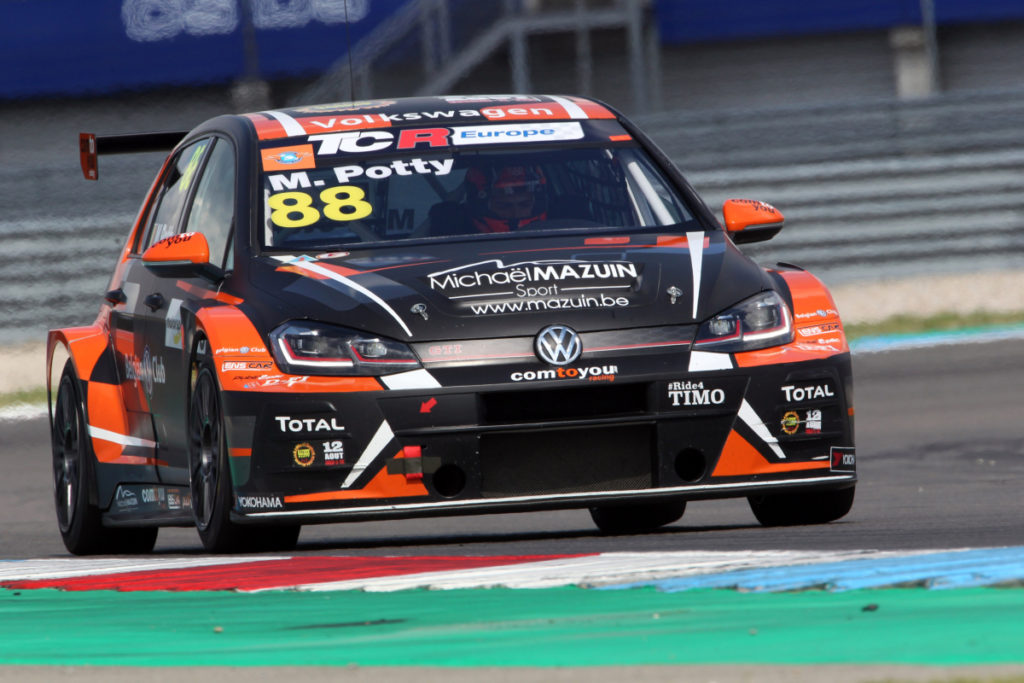 The TCR Benelux final will take place on the magnificent circuit of Barcelona on the 20th and 21st of October.
Drivers Championship : 1. Maxime Potty 113 points ; 2. Jean-Karl Vernay 109 ; 3. Danny Kroes 107 ; 4. Julien Briché 94 ; 5. Stefano Comini 90 ; 6. Loris Cencetti 85 7. Cedric Piro 56 ; 8. Marie Baus-Coppens 56 ; 9. Jaap Van Lagen 55 ; 10. Peter Terting 16
Team Championship : 1. Leopard Lukoil Team 168 points ; 2. Comtoyou Racing 119 ; 3. PCR Sport 111 ; 4. JSB Compétition 110 ; 5. Autodis Racing by THX 95 ; 6. Autodis Racing by Piro-Sports 81
TCR Benelux – 2018 Calendar 1. 19/21 May – Circuit Zandvoort, Netherlands (Jumbo Racedagen) ; 2. 9/10 June – Circuit de Spa-Francorchamps, Belgium (International GT Open) ; 3. 7/8 July – Hungaroring, Hungary (International GT Open) ; 4. 18/19 August – TT Circuit Assen, Netherlands (Gamma Racing Days) ; 5. 20/21 October – Circuit de Barcelona Catalunya, Spain (International GT Open)