Having dramatically left the track during Friday's free practice, Julien Briché (Peugeot 308 TCR) brilliantly rewarded the mechanics of the JSB Competition team by winning an exciting TCR Benelux Race 2 on Sunday at Spa-Francorchamps. Despite retiring after a coming-together, Gilles Magnus (Audi RS 3 LMS – Comtoyou Racing) remains in the lead of the championship by virtue of his victory in Race 1.
After a relatively straightforward Race 1 on Saturday, which saw Gilles Magnus (Audi RS3 LMS – Comtoyou Racing) win ahead of Santiago Urrutia (Audi RS 3 LMS TCR – Team WRT) and Maxime Potty (Volkswagen Golf GTI TCR – Team WRT), we were expecting a very lively second race at Spa-Francorchamps during the third TCR Benelux/TCR Europe meeting. With the qualifying Top 10 reversed for the starting grid, we indeed witnessed a merciless battle on Belgian track.
Starting from pole position, the Serbian driver Dusan Borkovic (Hyundai i30 N TCR – Autodis Racing by Target) defended strongly before being overtaken by Julien Briché. Amazingly, after starting from 5thposition, the JSB Competition team boss won for the third time this year in Race 2!
"What a weekend!" said the driver from Amiens. "I am so happy to reward my mechanics, who only slept for half an hour during the night of Friday to Saturday after my crash during free practice. It is a real shame that we had a turbo problem, because of a loose collar, otherwise I am sure we would have scored big points in the first race as well. But there you go, it is still a beautiful revenge and we are looking forward to the remainder of the championship."
Behind Julien, the racing incidents were countless. After being hit in Les Combes by a competitor in TCR Europe, Dusan Borkovic was forced to abandon. The winner on Saturday, Gilles Magnus was hit by Santiago Urrutia at the Brussels hairpin and had to retire. And there was no further success for Maxime Potty, who had a tyre problem and then a brake failure during his last trip through the chicane. Tom Coronel (Honda Civic – Boutsen Ginion Racing) finished his race in slow motion after colliding with the wall at the top of Eau Rouge.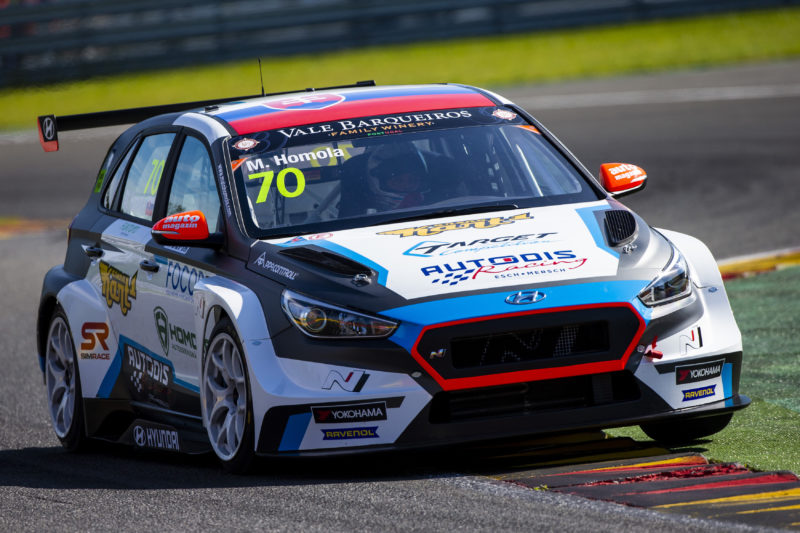 Second, Mat'o Homola (Hyundai i30 N TCR – Autodis Racing by Target), finally found his way back to the podium after a poor weekend at Hockenheim. In the Top 5 for TCR Europe, Ashley Sutton (Volkswagen Golf GTI – Team WRT) gained a 3rdplace in the Benelux rankings, reserved for drivers or team representatives licensed in one of the three Benelux countries.
As in the first race, Aurélien Comte (Peugeot 308 TCR – DG Sport Competition) was 4th, ahead of Santiago Urrutia, but the Uruguayan was penalised following the collision with Magnus now being investigated.
Former championship leader, Josh Files (Hyundai i30 N TCR – Autodis Racing by Target) had a weekend to forget after his dramatic departure from the track during qualifying. He recovered a few points by finishing 5thin the Benelux rankings ahead of Marie-Baus Coppens (Cupra Leon – JSB Competition). Finishing in agony after his tyre problems, Maxime Potty had to be content with an 7thplace, ahead of Tom Coronel and Gilles Magnus, ranked despite his track-side stop with two laps to go.
After this Ardennes round, Gilles Magnus retains the lead in TCR Benelux, 14 points ahead of Josh Files and 15 ahead of Julien Briché. However, the gaps behind them are extremely small with no fewer than six drivers grouped within 33 points, less than the 40 points on offer for a victory.
After a long summer break, TCR Benelux will resume in Barcelona on 21 and 22 September before the championship final in Monza on 12 and 13 October 2019.
Follow TCR Benelux on:
Facebook: www.facebook.com/tcrbenelux
Instagram: www.instagram.com/tcrbenelux